Two years ago I added a mini adventure to the end of my SLA conference in San Diego
(Going the whole Hog from San Diego to Las Vegas). This summer the conference was in Boston, so once again I decided to hire a motorbike and explore New Hampshire.
For this trip I decided to go for something different to the monster Harley Davidson Road King of 2013. I considered a BMW sports tourer, famed for their ride-ability and ergonomics, or perhaps my first ever ride on a British Triumph. But when I rang through to Eagle Rider I discovered the choice was just Harleys or Indians, so I went with the Indian Chieftain. If I had thought the Road King was a handful, the Chieftain was more so. With 111 cubic inches or 1,811 cubic centimetres, the engine was only slightly smaller than the one powering my five door family saloon. And weighing in at 848lbs (385 kilos) it was three times heavier than my Kawasaki KR-1R tucked up in my garage at home.
The Boston branch of Eagle Rider was being refurbished after damage caused by the severe winter storms, so pick-up was from their Foxboro branch MOM's to the west of the City. This meant travelling by train, which was something of an American cultural experience in its own right. Sadly, trains are a badly neglected form of transport in the United States compared to Europe. The carriages on the commuter train I caught looked straight out of the 1950's, with cracked leather seats in long rows. The windows were so worn and scratched I couldn't even see which stations I was passing through, let alone a view of the landscape I was passing through. Luckily, and somewhat at odds with the ancient nature of the train was the provision of free Wi-Fi. So I got out my laptop and used Google maps to work out when I had arrived at my station.
The weather forecast of heavy wind and rain had my leaving the SLA Conference earlier than planned. I hoped that by picking the bike up early and heading north, I might be able to keep ahead of the worst of the weather. I smiled sardonically to myself, when remembering my conversation about wet weather with John from Eagle Rider several weeks earlier. He had warned I wouldn't get a refund if I cancelled due to wet weather. I replied that I was British and so had plenty of experience of riding in the wet. Also, having been a Boy Scout in my youth, I had come prepared and packed my ancient Rukka jacket from my days as a motorcycle messenger in London in my twenties. I had also managed to squeeze my armoured leather jacket, boots, gloves, and waterproof trousers into my case. My crash helmet wouldn't fit, so became my hand-luggage for the flight.
My station stop of Norfolk turned out to be a quiet suburban town with just a single rail track running through it. So I soaked up the genteel atmosphere in the warm afternoon sun watching the logging trucks roll by, as I waited for my lift.

Once I arrived at MOMs, sorting out the paperwork was quick and easy. Following a  short introduction to my big blue shiny Chieftain bike, I was wobbling off into the heavy but fast moving traffic, heading west on Route 1.
I joined Interstate 495 heading north, but after about an hour surrounded by speeding traffic I decided I needed to check I was actually heading in the right direction. I pulled off at a service station and parked next to a well-used Harley and its grizzled owner. He was heading hundreds of miles south for his son's graduation, but having already done over 100,000 miles on his lean bike, was remarkably relaxed about the journey ahead.
I returned to the motorway just as the predicted rain clouds began rolling in from the west. But I was still really uncertain of my route without a decent map plus confusing road signs. I was looking out for route 125 north and naively assumed they would be in a logical sequence. They weren't – and having checked on my return home, the actual order of road numbers was 62, 117, 111, 2, 119, 225, 4, 3, 3A, 38, 28, 125 and 108. I think the word 'random' applies here.
After nearly two hours of heavy traffic and feeling close to despair, a sign for 125 flashed up and I dived off the motorway and headed north towards Kingston and Rochester.  Immediately everything improved. At last I could get a proper feel for the bike between my legs. I could appreciate the smooth engine with its powerful low-rev torque, light clutch, strong brakes and most surprising of all – nimble handling. I was also impressed by the green lawns and white paint on picket fences and wooden architecture typical of the New Hampshire region.
Sadly my equanimity wasn't to last long, as the sparse road signs didn't give me any confidence about my direction of travel. My planned 7pm meetup with old friend Ric began to look doubtful. The fuel gauge indicated a quarter tank remaining, so I stopped for 'gas'. And was stunned to find I couldn't even squeeze $10 worth in. The station was on a four way junction, so I after discovering they didn't sell local maps, I asked which road for Lake Sebago. Considering it is a popular tourist destination, I was a bit surprised no knew which one to take. I picked the most likely looking road and headed on uncertainly.
By now the scenery had changed from manicured lawns, to impenetrable pine forests and lumber yards with the odd nudist campsite thrown in. The heavy traffic had all but disappeared, replaced by the occasional enormous log laden truck hurtling towards me along the narrow road. This was when the  sheer weight of my bike became an advantage, as the turbulence from the passing lorries barely caused a flicker.
It was around this time that the rain storm finally caught up with me, forcing me to stop and put on my ancient waterproofs. I also raised the wonderful electrically powered windscreen up to its highest level to push the water droplets over my head. I knew I must be getting nearer to Ric's house by now, but the sun was starting to set and I my stress levels were rising. The next town was Standish where the road signs were a complete disaster. I wasted twenty minutes riding round in circles until I eventually found the right road out of town.
Just ten miles on and I had at last arrived at Sebago Lake. So I got out my Google map printout to help pinpoint Ric's house. However in the real world there was a big gap between numbers three and ten, and I needed number seven. I asked a couple of locals, but they hadn't heard of Ric, so I rang and discovered I had somehow got his address wrong. His house number was 2,000 higher and six miles further along the road.
It was at this point I realised my main headlights weren't working. But, fortunately the daylight driving lights were quite bright, so I could see the road ahead. But I couldn't see the house numbers clearly, and I was annoying drivers coming towards me who assumed I hadn't dipped my lights for them. They punished me by keeping  theirs on full beam, blinding me. I saw the house numbers go over 2000 and slowed right down. But then then suddenly went back down to one again. I sped up, but after another five miles had run out of houses altogether, so turned around.
It was getting properly dark now and my stress levels were peaking. I zoomed back along the road desperately looking for the house, and before I knew it was back at Sebago Lake. I could hear my phone ringing and fought to remove my gloves and helmet in time to talk to Ric. They had seen me ride by earlier and suggested I meet them instead at Naples before the local restaurant closed. I hurtled back along the road looking this time for the road sign to the town. But somehow missed this in the dark. I pulled into a closed gas station and rang Ric. He sounded exasperated, which I could well understand, and told me to stay where I was until he arrived.
Ten minutes later and his truck appeared along with his smiling face. By now there was only one place left open that might still be serving, so I followed Ric and his wife there for a late beer and burger. The journey had taken my over six hours instead of under three according to Google maps. I couldn't believe how patient Ric had been with what appeared to be my deliberate repeated attempts to miss his house. After a quick tour of their beautiful lakeside house I collapsed into bed and slept hard on the soft bed.
Both Ric and his wife had work the next day, and I had a full day of riding ahead of me. So after a strong coffee and a quick catch-up from the old days, I was on my way. My first stop was at Naples which I had failed to find the night before. In the bright morning sunlight I was able to take in the stunning lakeside views and to admire a big group of Harley Davidson bikes gathered in the car park.
My only planned destination for that day was Mt Washington, which according to Motorcycle Rides website was an exciting challenge for a motorbike. The road to the mountain wound its way through dense pine forest, with signs warning of moose crossing, and very little traffic apart from a surprising number of motorbikes coming the other way. I could see my fuel was running low, so took a detour into sleepy little Jackson, but could find nothing of note other than tourist trinkets and an impressive wooden bridge over the river.
By the time I reached the car park at the foot of the Mt Washington the gauge indicated I had less than a quarter left. I got chatting to a friendly couple on 'his and hers' motorbikes. He had a brand new Indian Scout with all the trimmings including tassels on the front mudguard, and she was on a very futuristic looking trike. They had been up the mountain before, so we reviewed the pros and cons of the climb. In particular my considerable fear of heights.
Despite my issues with vertigo I decided I might as well give it a go after coming all this way. Sixteen dollars later and I was heading up a narrow winding tree-lined tarmac road. Soon the incline increased while the trees decreased, and I could now see just how steep the drops off the side of the road were. I took the bike down to first gear and crept forward up the mountain road.
Suddenly the fuel gauge showed the tank was nearly empty, which was came as a nasty surprise. It looked like I wouldn't be able to make it to the top. Around the next bend the tarmac gave way to a slippery dusty dirt track. And I could feel the panic rising up through my stomach. Soon after fuel gauge began to flash warning signs at me, but I carried on up, looking for places to turn around and free-wheel back down the mountain. Somehow the bike kept going, and the dirt road was replaced by nice grippy tarmac again. And then the top of the mountain came into view and I was able to stop. I climbed off the bike and stood on my shaking legs and took in the one hundred mile views.
After a few minutes to recover my equilibrium, I set off to explore the peak and to search for some gas to get me back down. It was warm in the bright sunlight but the air temperature was chilly at this altitude, and I found an icy puddle in the shade. There was a stiff breeze blowing, but fortunately nothing compared to the day they recorded the highest wind speed in the world at 231 miles per hour in 1934.
After a having a quick nose around the original Tip Top hotel built in 1853, I returned to my bike and prepared to head back down the mountain. I was greatly surprised and relieved to see the fuel gauge indicating quarter full again, although this increased to three-quarters on the steeper downhill sections, which was bizarre. Thank goodness the return journey was not nearly as terrifying as the way up, and twenty minutes later I was back at the bottom feeling calm again.
Next up was a ninety mile loop of roads recommended by the Motorcycle Rides website. These were wonderfully traffic free, with only the occasional logging truck to keep me alert. Plus a few other bikers exploring these roads, who never failed to return my 'American' bikers wave. I couldn't resist stopping for a few minutes at Umbagog Lake where the quiet calm of the water and views of the distant mountains were wonderfully restorative. The warning about the dangers of thin ice seemed incongruous in the 30 degree centigrade heat, but gave a hint towards the winter weather here.
I reached the most northerly point on my the trip at Errol, which turned out to be not much more than a sign-post. Then turned south towards Berlin and the best roads of the whole trip. I revelled in the long open curves as the road followed the track of the fast flowing and appropriately named Bear Brook river. The wonderful views of the mountains were constantly changing with each bend. These roads were virtually deserted, with my only concern bumping into a bear or moose. I did actually have to slow right down to let a large female moose wander imperiously across the highway at one point.
Next stop was Gorham where I just managed to squeeze another $10 of fuel into the tank. A recommendation from the lady at the gas station led me to Mr Pizza where I decided a celebratory brunch was in order, so went with prawns, cheesy pasta, garlic bread, salad and a local beer. But what sounded like a modest sized meal on the menu at $9.50 turned out to be something of a eating challenge. The food was delicious but also incredibly rich, but I kept going until I had eaten the lot. On arrival, mine was the only bike at the restaurant, but during my short lunch break, Harleys began to arrive and noisily park up. By the time I left they were filling up the car park.
As it was still relatively early, I decided there was time to pay a visit to Laconia bike week to see what with the oldest bikers rally in the United States was like.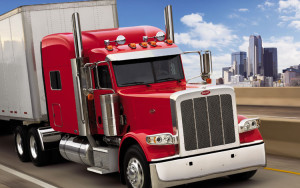 The road there took me down to Carroll with plenty of big fast logging trucks on the road. In my mirrors I could see a particularly intimidating Peterbilt truck bearing down on me from behind, so increased my speed to a steady 70 miles an hour to prevent it overtaking.
After a few miles I noticed the truck had disappeared and been replaced by a slightly odd looking brown car. I allowed it to get closer and realised it was a County Sheriff police car – and that I was speeding. I subtly slowed down to 50 and cruised along for another ten miles until they got bored of following me.
But in Carroll I noticed there was another cop car on my tail. So I kept rigidly to the 30mph speed limit until I reached the edge of town and they disappeared for good. I discovered later the police weren't worried about my speed but my level of intoxication, apparently many bikers ride drunk during the Laconia festival.
I could tell I was getting nearer to my destination as the bikes started to outnumber the cars on the road. The road signs were no help, so I decided to follow a particularly loud Harley in the hope they were also heading to the gathering. This bike had an incredibly loud exhaust pipe, forcing me to drop back a long way to protect my ears. I could only imagine what it must have been like for the rider and pillion sitting on the bike all day.
The road wound through more beautiful mountain scenery before dropping down to a series of small lakes. Finally I started seeing signs for Laconia, so let my noisy guide go and stopped for more fuel. Parked up at the gas station was a shiny new BMW adventure bike, so I pulled up alongside and began chatting to its husband and wife riders. They had been coming to Laconia for many years and thought nothing of the 18 hour ride from their hometown in the mid-west. He was a big fan of European bikes, and had a Ducati and Triumph to go along with his impressive BMW. I noticed they were wearing crash helmets, and we talked about why so many bikers I had seen didn't have any protection on their heads, and how crazy they were.
Next stop was the town of Laconia itself, but having explored the main streets thoroughly I was confused by the lack of bikes in the town. I stopped and asked one of the few groups of riders in town and they explained the big gathering was over on Lakeside, and that I could follow them there. It was a ten mile ride, but soon the road were swarming with bikers, out numbering the cars by ten to one. At Lakeside the road had been closed to all but bikes and I managed squeeze into a parking space next to a 'Jesus bike'.
There were lots of kiosks and stalls selling fast food and bike related gear, with the addition of quite a few mobile tattoo parlours which were proving popular. There were some amazing custom bikes on show, many of which looked virtually unrideable. I heard later that most are driven there in vans and then wheeled out for short show-off rides.
After an hour fully immersing myself in this uniquely American experience (I only spotted two European and two Japanese bikes). I decided it was time to head south. The sun was setting over the lake and knew I would need to put in some miles in, to find a motel that wasn't booked out to bikers.
I managed to find route 107 which was a lovely quiet rural road peppered with farms and small villages. After 40 miles of riding and with darkness descending, I came to a small town and conducted a fruitless search for a motel. I asked for help from a group of locals chatting outside the only store left open. Apparently the nearest hotels were in Concord another 20 miles on. By now it was completely dark, so I sped-up and followed their directions. On the approach to Concord the signs indicated I had a choice of three exits to choose from. I guessed that the middle one would take me to the town centre, but was wrong. I spent 20 minutes exploring suburban lanes with enormous houses before I turned around and head back to the junction. Five miles in that direction and I could see the lights of the town centre approaching. A quick exploration of Concord town centre revealed just one Holiday Inn, but with full car park. It was 10pm, and after 13 hours on the road I was more than ready to dismount my wonderful two wheeled steed.
I found a gap for my bike and entered the hotel lobby with trepidation. What a relief! They had just three rooms left, and within minutes I was soaking my aching body in a big tub of steaming hot water. I still didn't feel hungry after my epic lunch, so made do with my emergency supplies of Mac & Cheese crisps and bottled water.
I slept solidly on the big comfortable bed until nine the next morning, and was packed and ready to go by nine thirty. I decided to miss the hotel breakfast and instead look out for a local diner on the road. I wanted to find a quiet route to get me back to MOM's as I had plenty of time, and keep off the motorways. Route 3 to Manchester was a small road, but was also a busy one with lots of traffic, stop lights and 30 limits. And Manchester turned out to be a big town with heavy traffic crawling through its many junctions. The temperature was already up into the high 20's Centigrade and the wafts of heat rising up from the engine big hot engine didn't help.
Also, the sign-posts were virtually non-existent with nothing showing the way to Salem New Hampshire. All I could see were signs for I 93 so I followed them until I found myself battling with 80mph traffic speeding towards Boston. I got off the motorway as soon as I could and cruised through Salem town looking for an alternative for my brunch to the ubiquitous Dunkin' Donuts. I saw a small wooden shack by the side of the road with a sign proclaiming 'We serve the best coffee in Salem'. I took their nearly full car park as a good sign and pulled off at the next turning. And very nearly dropped the motorbike turning on the loose gravel surface. With relief I pulled into the car park and strode into the café where I was met by a cheery welcome. The friendly chef guaranteed I would enjoy the house special with added hot sauce pictured below. And he was right.
As I sat enjoying my brunch in a bun and coffee, I noticed my fellow diners were concentrating on television screens showing just a series of changing numbers. I realised the café shared its space with a lottery shop, and most of the customers were punters not diners. The lottery sales counter displayed a series of photocopied A4 posters proudly exclaiming recent winning tickets they had sold. I noticed there were no prizes larger than a thousand dollars, but this didn't stop a string of enthusiastic gamblers queueing up to buy more.
I returned to my now baking-hot bike and set off in search of route 3 to take me into the Boston suburbs. Soon I was heading south through heavy traffic and burning hot sun. Once again the signage was minimalist, so I concentrated on keeping straight on. Many U-turns and stops to check my map were required to keep on track, with sometimes a glimpse of the right route sign after I had already taken the wrong road.
At one point the road was closed for resurfacing with a helpful diversion sign showing me the way to go. Unfortunately that first sign was also the last, so I had to guess how to re-join the main road through a series of housing estates.
All this took a lot of time and I began to get concerned about making it to MOMs for my 4pm deadline. More heavy traffic and I was close to the motorway into central Boston and decided a more radical approach was needed. I worked out if I took I93 into the city, I could switch onto I90 out again. Soon I was fighting amongst four lanes of 80mph traffic towards the high-rise towers of Boston.
Then suddenly I was underground in the infamous Central Artery/Tunnel Project (CA/T), known unofficially as the Big Dig. The sign for I90 West flashed up and I was just able to squeeze over into the correct lane in time. But then the traffic slowed down rapidly to crawling pace. I was pincered between a big van in front and a roaring big truck right behind me. The temperature displayed on my screen showed 89 Fahrenheit and I could feel myself becoming feint from the heat and exhaust fumes. After twenty minutes of this particular torture we emerged into startling bright light. Soon the traffic eased, along with my nerves and we were back up to a steady 80mph. Twenty miles further on I came off the turnpike and used my last $20 bill to pay at the toll and ask for directions. Just keep going straight ahead was the advice, and I was soon cruising along route 1 looking forward to a punctual arrival. But with no road signs for several miles I stopped at a gas station for help. Still the advice was keep going straight on.
Finally there was a sign and it was for Norfolk, so I turned off knowing I would be able to work out my way from there. I found Norfolk, but not the railway station, so I asked for directions again knowing time was running out. A friendly trucker was sure the Foxboro branch of MOMs had closed, which didn't inspire confidence in his directions. Ten miles later and I was lost and in desperation phoned MOMs for help. They said I was on 1A and should be on 1, and gave me clear instructions to get to them. Even so, thanks to very misleading road signs I took another detour wasting valuable minutes. Finally I could see their distinctive logo ahead. I pulled up outside the store and switched off the throbbing v-twin for the last time. I ripped off my helmet and jacket from my overheated body.
John was there to welcome me back, with no complaints about my lateness. And very soon I was out of my biking gear and ready to head to Boston Logan airport. We piled into a MOMs van and were soon mixing it up with the rush hour traffic. As we travelled back along route 1 towards the motorway, I realised that if I had listened to the directions I would have got back nice and early. Instead of desperately racing around the local roads getting increasingly lost.
John and his mechanic colleague talked about biking in the region and the risqué reputation of the Lacunia bikers. He said the refusal to wear helmets came from the 'Live free or Die' moto dating back to the days independence from English rule. I had already noticed this uncompromising message on the bumpers of New Hampshire cars on my travels.
This hard-line attitude which was reinforced by the number of gun stores I saw along the way, some marketing their lethal wares specifically at women using a 'Guns 4 Girls' slogan.
Waiting for my flight home I worked out the statistics of my trip. I had travelled 700 miles and ridden for 24 of the 48 hour hire period. I had also been up and down an 8,000 foot mountain. And this time I wasn't taking home an unwanted souvenir in the shape of severe back-ache thanks to my new kidney belt.