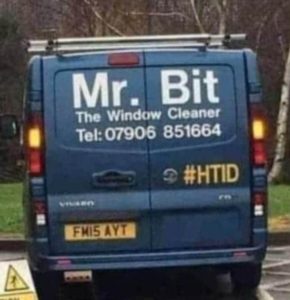 I recently came across this photo on social media, and it made me think about names for window cleaning companies.
If you have read my previous posts, you will know I love a clever name for a business. And this is one of the best I have seen. Just in case you don't get the joke, say the name out loud as one word, and you should get … missed a bit.
Perhaps it's not the best for those who take their names literally. But I think it is both clever and funny, which makes it memorable. And every businesses wants to have a name people can recall easily.
I have a personal interest in window cleaning, as my cousin started his Clear Bright business over 20 years ago. He has lots of great window cleaning stories from his years popping up and down ladders.
As an aside, he also came up with a brilliant invention for improving map indexing, to make it much easier to find customers houses. GB2365196A Identifying locations on a surface, e.g. a map. As with so many inventions, its value was not recognised by the map producers of the day. So the it went down the cul de sac of history.
In terms of describing the service offered, Clear Bright is a pretty good name.
Here are a few highlights from over 700 UK window cleaning companies I found on a recent Fame database search. I've marked my favourites with a *. Which are your favourites and why?
1ST GLASS WINDOW CLEANING LTD
20 : 20 CLEAN LTD
4 CORNERS CLEANING LTD
AADVARK CLEANING COMPANY LIMITED
ALL CLEANED UP LIMITED
* ALL WASHED UP LTD
B CLEAN (ROSSENDALE) LIMITED
BEE CLEAN LONDON LTD
BUBBLES & SUDS LIMITED
* BUBBLES WINDOW CLEANING SERVICES LTD
C THRU WINDOW CLEANERS LIMITED
CLARITY WINDOW CLEANING LIMITED
CLEAN & PRISTINE LIMITED
CLEAN IMAGE (SOUTH WEST) LIMITED
CLEAN IT ALL (NORTHERN) LIMITED
CLEAN NATION WINDOW CLEANING LIMITED
* CLEAN SLATE CLEANING SERVICES LIMITED
CLEAN VIEW WINDOW CLEANERS LTD
CLEAN.CLEAN.CLEAN
CLEANEST WINDOWS LIMITED
CLEAN-MY-WINDOWS LIMITED
CLEARVIEW WINDOW CLEANING SERVICES LIMITED
COME CLEAN LIMITED
CRYSTAL CLEAN WINDOW CLEANING SERVICES LTD
* CRYSTAL CLEAR WINDOW CLEANERS LIMITED
DAYGLEAM LTD
* DIVINE SHINE LIMITED
GLEAM WINDOW CLEANING NORTHERN LIMITED
GLEEM CLEAN LIMITED
LIONHEART WINDOW CLEANING LIMITED
* PARTNERS IN GRIME (CLEANING) LIMITED
PERFECTSHINE WINDOW CLEANING LTD
POLE POSITION CLEANING LIMITED
PREEN AND CLEAN LIMITED
PRIME SHINE LTD
PRISTINE AND CLEAN LTD
PURE RINSE LIMITED
PURE WINDOW CLEANING LIMITED
PURERCLEAN LIMITED
PURESHINE WINDOW CLEANING LTD
REFLECTIONS WINDOW CLEANING LTD
* RISE & SHINE WINDOW CLEANERS LIMITED
SEE THRU WINDOW CLEANERS LIMITED
SMUDGEOFF CLEANING SERVICES LTD
SPARKLING WINDOWS LTD
SPICK AND SPAN LIMITED
* SPLASH AND SPARKLE LTD
* SQUEAKY CLEAN WINDOW CLEANERS LIMITED
STREAKWISE LIMITED
SUNSHINE WINDOW CLEANING COMPANY LTD
SUPERCLEAN EXPRESS LIMITED
TOP DOG WINDOW CLEANING LTD
TOTAL SHINE MK LIMITED
ULTRACLEAN (NORTH WEST) LTD
ULTRACLEAR LIMITED
VISION CLEANING LTD
VISIONCLEAR (WL) LTD
WASH WINDOWS LIMITED
* WET N WILD CLEANING SOLUTIONS LTD
WHALE CLEANING LIMITED
WHITEWASH LTD.
WINDOW CLEAN UK LTD
WINDOWPAYNE LIMITED
* WIPEOUT CLEANING LIMITED